ITALY canned food manufacturers
◾ FATTORIA SILA
FATTORIA SILA s.r.l
C.da Sculca
87050 Casali del Manco (CS) ITALY
Producer of fine specialties from Calabria

Appetizers and vegetable, bruschetta, mushrooms, porcini mushrooms, sauces, condiments, pesto sauce, vegetables.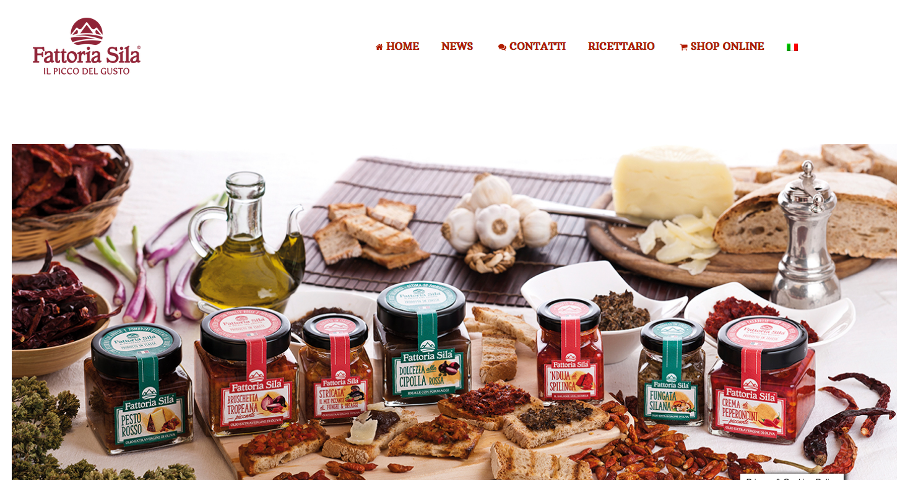 ----
◾ FATTORIE GIACOBAZZI
Fattorie Giacobazzi S.r.l.
Via G. Di Vittorio, 28
41015 Nonantola (Mo)
ITALY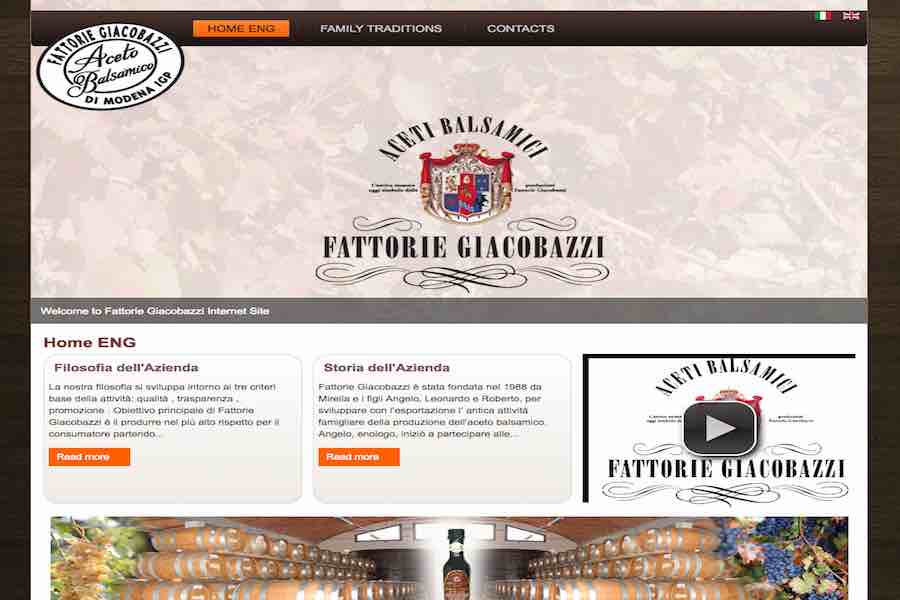 ----
◾ FINAGRICOLA
FINAGRICOLA SOC. COOP.VA
Viale Spagna,6 (501,93 km)
84091 Battipaglia
ITALY


Finagricola is a cooperative made up of 9 members and featuring a production base of 24 farms. For two generations now Finagricola has committed itself to carefully focusing on variety, as a means for recovering and adding value to typical local produce, the sole purpose of which is to ensure quality and to oversee the supply chain. The company is especially focused on all the parameters affecting the quality of its output, by processing only the produce grown on its farms, which are all located in the area of the Piana del Sele (Salerno). The Finagricola farms total over 300 hectares of protected and directly controlled crops, which means that our produce is guaranteed 100% Italian, from the seeds to the finished product.
Source: the website

Peeled tomatoes
Tomato sauces
Tomatoes in tomato juice
Tomato purée
Oniom cream
Sweet pepper sauce
Onions
Dried tomatoes
Dried red peppers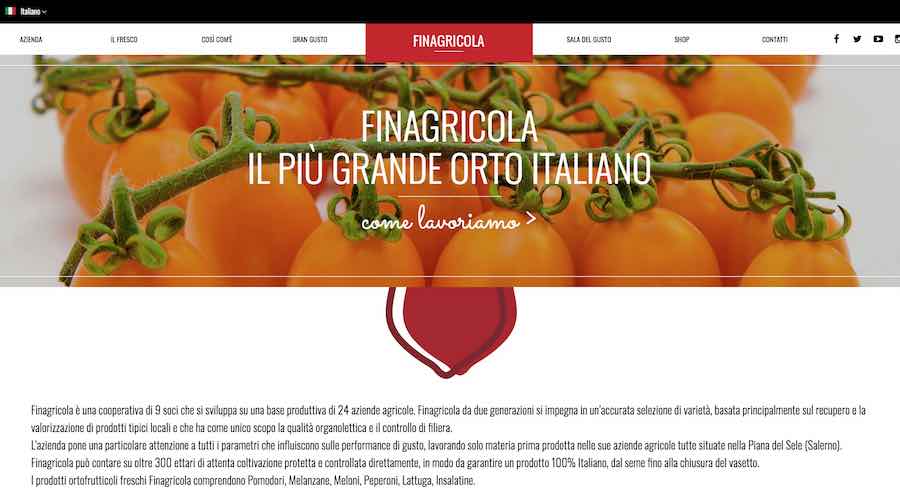 ----
◾ FONTEROSA SAS
FONTEROSA SAS
Località Baudana, 75
12050 - Serralunga d'Alba (CN) ITALY
The firm Fonterosa di Pira Giorgio e C. s.a.s., was founded in 1985 in Alba. It then moved in 1993 to the hills in Serralunga d'Alba, in the center of the Langhe region, where it enjoys a wonderful view, surrounded by old castels and famous vineyards. Since the beginning, the purpose of Fonterosa was to give its customers a special product which would contain a "piece" of Langa. Giorgio and Daniela, founders of the company, take care of the production, the business relations and administration respectively, supported from 2004 by the son Fabrizio. This area, with its thousands of hectares of vineyards, is also the producer of other delicacies such as vegetables, fruits and truffles. In this rural setting, since olden times, preserving the produce of the land for the cold season was a source of nutrition as well reason to be proud, recepies have become part of the popular tradition. Fonterosa's specialities, with their colours, flavours and fragrances, are the expression of the people from the Langa region, of their way of working and eating. Early fruits and vegetables of very high quality, are prepared in practical and original glass jars, packed with originality and simple elegance. If you like walking in the open air, looking for the real value of the land of Langa, Fonterosa will be pleased to receive you in a fine tasting room with a wonderful view, where you will have the possibility of tasting and buying all the products.
Source: the website
Appetizers and vegetable, peppers with Roero Arneis, artichokes in extra virgin olive oil, soused vegetables, vegetables appetizer and tuna fish, sweet and sour onions, chutney, creams and sauces, jams, speciality for cheese and meat, fruit in syrup.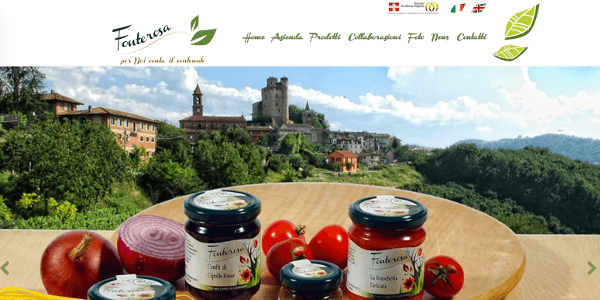 ----
◾ FRANTOIO SALVAGNO
FRANTOIO SALVAGNO
Ctr. Gazzego 1
37142 - Verona (VR)
ITALY
In addition to producing oil, their Frantoio offers a wide range of delicacies to satisfy even the most demanding palates.A line of products including black olives pulp, pitted black olives in extra virgin olive oil, black olives flavoured in brine, green olives pâté, pesto, tomato cream, green sauce, Modena balsamic vinegar, olives sauce and "Foglie d'Ulivo" pasta with spinach.
Source: the website
Black olives
Pesto sauce
Sauces
Bruschetta sauce
Black olives cream
Tomato cream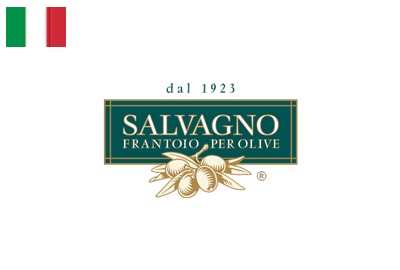 ----
◾ FRANTOIO VENTURINO BARTOLOMEO SRL
FRANTOIO VENTURINO BARTOLOMEO SRL
Via Molini, 1
18013 Diano San Pietro (IM) Italy
The company has two preserves lines ensures high flexibility (both in terms of packaging format and productive run) , maximum efficiency and possibility to manage important orders like PL of national and international GDO.
Source: the website
Pesto with basilico genovese dop, Pesto without garlic, red pesto, Pesto with Genoese Basil PDO & Italian peppers, taggiasca olives in brine, Pitted Taggiasca Olives in Extra Virgin Olive Oil, Taggiasca Olive's Pâté, ligurian sauce, artichokes cream, dried tomatoes cream, corsara cream, dried tomatoes, olive oil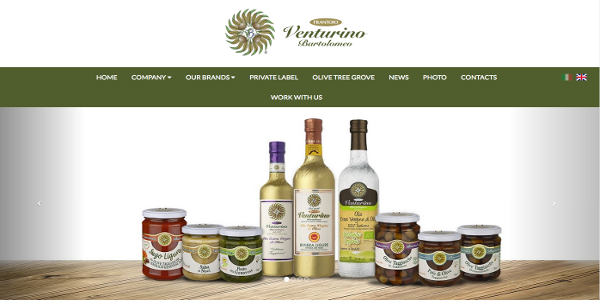 ----
◾ FRATELLI PINNA
FRATELLI PINNA AZIENDA AGRICOLA
Frantoio, uliveto e laboratorio:
Strada vicinale Maccia D'Agliastru 21
località Prato Comunale
Sassari
Ufficio:
C.so Vittorio Emanuele 259
07044 - Ittiri
ITALY
Azienda Agricola F.lli Pinna è una realtà che sviluppa i propri appezzamenti terrieri tra le porte di Sassari e Ittiri, un comune della stessa provincia che sorge a 450 mt sopra il livello del mare, particolarmente vocato alla coltivazione dell'ulivo e degli ortaggi.
Source: the website

Facebook
Green asparagus
Artichokes
Mushrooms
Olives
Red tuna
Ventresca of red tuna
Dried tomatoes

----
Do you find any mistake or bug in this page? Please inform us by email or whatsapp. Thanks you.