ITALY canned food manufacturers
◾ GALFRE' GIACOMO & C.
GALFRE' GIACOMO S.A.S.
VIA CARDE', 103
LOC.CROCERA
12032 BARGE (CN) - ITALIA


for over 50 years they produce fine quality preserved foods.
Porcini mushrooms, antipasti, sauces, fruit compotes, vegetable compotes, dried tomatoes, small onions, tuna.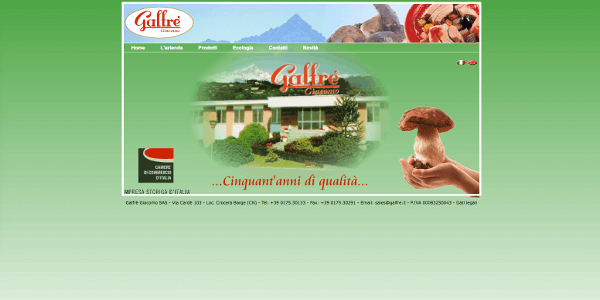 ----
◾ GALFRE' ANTIPASTI D'ITALIA SRL
Galfrè Antipasti d'Italia S.r.l.
Viale Torino n. 13
12032 BARGE (CN)
Italia


A long tradition in mushrooms and vegetables preservation as well as in starters making, with full respect for all artisanal and quality standard of production. This is the secret of Galfrè Antipasti d'Italia, established in Barge in 1901 with the aim to promote in Italy and abroad unique and delicious products.
Source: the website
Whole cep mushrooms in olive oil
Sliced cep mushrooms in olive oil
Mixed mushrooms in oil
Dried cep mushrooms
Antipasti
Spreads and sauces
Artichokes in olive oil

----
◾ GRUPPO PETTI ITALIAN FOOD SPA
GRUPPO PETTI ITALIAN FOOD SPA
Via San Clemente, 48
84015 Nocera Superiore (SA)
EXTRA FINE SIEVED TOMATOES, RUSTICA SIEVED TOMATOES, CHERRY TOMATOES, DICED TOMATOES, CHOPPED TOMATOES, FINELY CHOPPED TOMATOES, DOUBLE CONCENTRATED TOMATO PASTE, TRIPLE CONCENTRATEDTOMATO PASTE, PIZZA TOMATO SAUCE
----
◾ GUSTIBUS ALIMENTARI
GUSTIBUS ALIMENTARI
C.da Milocca, Z.I. Dittaino
94010 – Assoro (EN) Italy
Gustibus Alimentari bases its philosophy on adding value to the harvest of Mediterranean crops and the use of modern and safe agronomic practices, in order to obtain high quality ingredients used to produce vegetable preserves of extraordinary quality. Every day, Gustibus works with passion to create masterpieces of taste that have all the flavor of delicious and artisan food. Gustibus Alimentari, thanks to a team of experts in the field of food technology and nutrition, is specialized in the research and production of food products of its own brand: the production area is concentrated exclusively at the site of C.da Milocca, in the industrial area of Dittaino in Assoro (EN), featuring a brand new plant with avant-garde machinery that always ensures high standards of quality.
Source: the website
Tomato sauces, Basil pesto, Trapanese pesto, Pistacchio pesto, Sun-dried tomato pesto, Sicilian caponata, Cream of green olives, Cream of red chili pepper, Pistachio cream, Almond cream, Hazelnut cream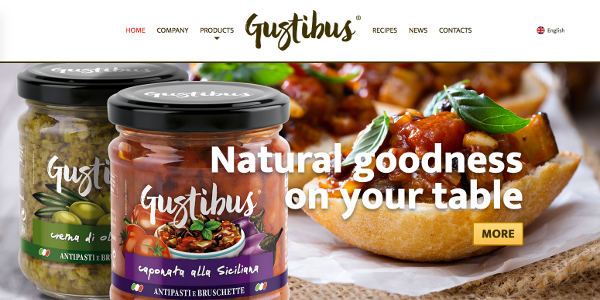 ----
Do you find any mistake or bug in this page? Please inform us by email or whatsapp. Thanks you.