Greece canned food manufacturers
◾ AGROVIM
AGROVIM
6th klm National Highway Kalamata-Messini
24100 Kalamata
Greece


AGRO.VI.M S.A. is based in Kalamata, Messinia and was established in 1994, as a continuation of "A. Gyfteas SA" that existed since 1964. During the first years of its operation, the company was mainly processing olive oil from Kalamata region. Through a few strategic investments, the company increased its productivity, expanded its range of products and improved its international competitiveness remaining devoted to the original vision of its founders: to offer high quality products and traditional flavors.
Source: the website

Facebook +30 2106423614
Olives
Antipasti
Olive oil
Dressing & Vinegar

---
◾ ALELMA
ALELMA
Anagnostou Y. & Kalogianni A. P.C.
Alonissos 37005 GREECE

In the Alelma seafood flavours workshop founded by Yiorgos Anagnostou and Amalia Kalogianni, they create a wide variety of tuna products exhibiting high quality and nutritional value, further developing the Alonissos tradition, and demonstrating unique know-how and respect for the consumer. Alelma Alonissos tuna is a pure Greek gourmet delight that has won over the Greek market and has also set sail to conquer the world markets.
Source: the website

Facebook (+30) 24240 66207
Tuna paste
White tuna Alalunga
White smoked tuna Alalunga
Blue fin tuna Alalunga

---
◾ AL.M.ME. SA
AL.M.ME. SA
KOULOURA IMATHIAS
P.O. BOX. 51
591 00 VERIA, GREECE

ALMME is the association of three agricultural first-degree cooperatives,namely A.S "NEOS" ALIAKMON , A.S MESSI , A.S MELIKI.Due to the new legislation, AL.M.ME. changed legal entity from 23-11-2012. The official name of the company will be AGRICULTURAL CORPORATE COLLABORATION - AL.M.ME S.A.- "AL.M.ME. S.A."
Source: the website
Canned peaches
Canned pears
Canned prunes
Canned cherries
Fruit cocktail
Chunky fruit salad
Strawberries
Raspberries
Strawberries
Blackcurrants
Blackberries
Fruit in plastic cups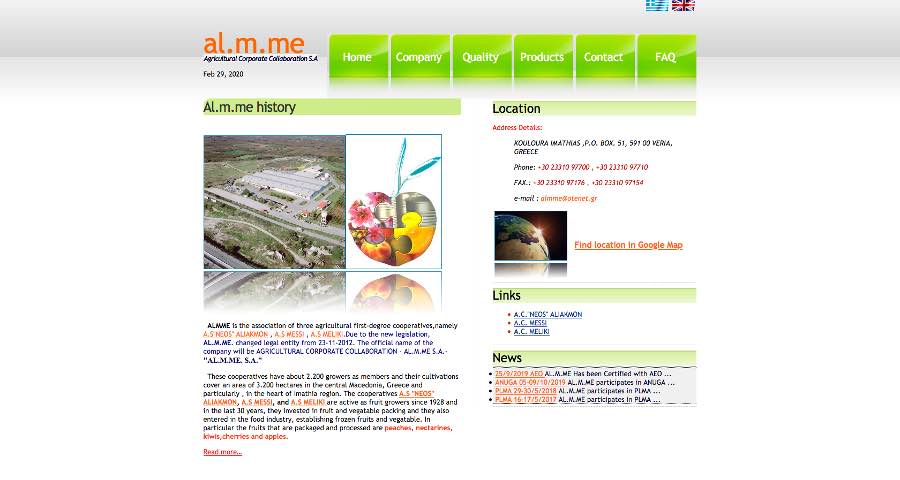 ---
◾ AMALTHIA S.A.
AMALTHIA S.A.
Kefalovrison
30400 Etoliko
Greece

Amalthia SA is one of the leading Greek companies focused on producing and exporting of high quality Olives. The company, since its establishment in 1980, is operating and developing, based on a main principle; the respect to tradition combined with the adoption of modern practices and infrastructure.
Source: the website
Kalamata olives
Green olives
Black natural olives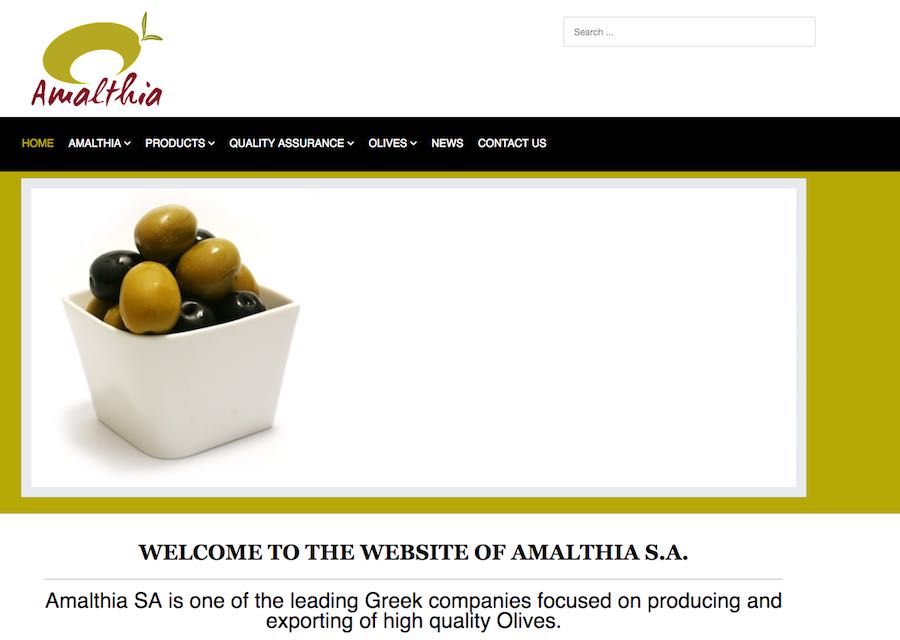 ---
◾ ASPIS S.A.
Hellenic Juice Industry C. Dedes ASPIS S.A.
4th Km National Road Argos - Korinthos
212 00 Argos
Greece


Producing a wide variety of high quality fruit products, they manage to serve the most well known and recognised customers in all over the world.
Their product portfolio aims to meet their customers' demands and expectations, providing personalized and quality customer experience, delivering always the right products and services, at the right time.
Purees + Concentrates + Juices
Aseptic Fruit Pieces
Canned Fruits
Oils + Aromas
Co-Packing
Source: the website


---
◾ ATTIKI PITTAS
ATTIKI BEE CULTURING CO. – ALEX. PITTAS S.A.
9 Protomagias
14568 Kryonéri
Greece


The products of ATTIKI, and more specifically its honey, have been exported since the 1930s. Nowadays they can be found in more than 37 countries across the globe, including Europe, the USA, Canada, Cyprus, Japan and the Middle East. Demand for the ATTIKI products has been unwavering and ever-increasing, and our products are sold in the finest stores in the world.
Source: the website


---
Do you find any mistake or bug in this page? Please inform us by email or whatsapp. Thanks you.