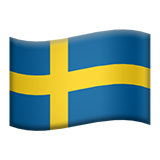 Sweden food importers
Sweden market could be of interest for manufacturers and exporters of canned food.You are able to find here a list of food importers in Sweden.
You are able to find here a list of the most important canned food importers in Sweden.
Sweden is one of the 30 EEA (European Economic Area) countries and EU member but outside the Eurozone, the currency is the Swedish krona. About 2% of the EEA population (10 million) is Swedish. The five Nordic countries - Denmark, Norway, Sweden, Finland and Iceland - with about 26 million inhabitants, are more and more regarded as the "home market" for companies within the Swedish food trade and industry.
For food exporters, the Swedish market can be divided into two main market segments: the retail- and foodservice sectors, and the food processing industry.
RETAILSECTOR
The Swedish retail trade has experienced a very positive trend in recent years. In fact, sales of food and beverages have increased every year between 2000 and 2012. It should be noted that food retail does not include sales of alcoholic beverages, which is carried out by a state monopoly, Systembolaget, which has the sole rights of over-the-counter retail sales. These state-run liquor stores are the only retailers that have the right to sell alcoholic beverages, such as wine, spirits and strong alcoholic beer.
There are approx. 6,000 grocery stores with a full line of food and other household items, of which half are larger stores, such as hypermarkets, supermarkets and discount stores, and half are smaller convenience stores. Also online sales of food is growing. There are several outlets of grocery shopping online. Food trucks selling ready-made food are becoming a part of the market.
FOODSERVICE
HoReCa (hotels, restaurants and catering establishments) is supplied by several wholesalers, of which three dominate the market, Martin & Servera (Axfood), Menigo and Svensk Cater. Besides these groups, imports are also conducted by importing wholesalers specialized in certain food items such as fresh fruit & vegetables, cheese & egg, fish, meat products, health foods, confectionary or alcoholic beverages.
Specialized wholesalers may distribute their goods either via the large retail groups, catering or convenience store wholesalers, or directly to independent chains, large food stores, or catering chains and large units. There are also some importers specialized in selling to the food industry, including bakeries.
However, large food manufacturers often conduct their own buying.
Four trade groups, ICA, Coop, Axfood and Bergendahls, with both retail and wholesale activities, dominate the Swedish distribution of food and beverages to the retail sector. All four groups have also built up their own buying and import departments where the company can buy directly from a store, or from a central distribution warehouse with listed products. Procurement can be done separately, through trading houses or group function, depending on the products.
These trade groups import some of their general food supplies by themselves, especially items bought in high volumes, and some through independent wholesalers acting as importers or agents. There are also wholesalers for different segments of the food sector. Thus, the convenience store segment is mainly supplied by specialized wholesalers, of which the leading ones are Axfood Närlivs, Menigo and Privab.
These four groups: ICA, 50% market share, COOP 20% market share, Axfood COOP 20% market share and Bergendahls COOP 70% market share, dominate the total retail market for foodstuffs and other everyday commodities. All these groups are also cooperating with retailing groups in other Scandinavian or European countries, especially regarding imports. Read more below.
😥 Any bug here?
❗ Any mistake in this page devoted to the Sweden food importers? Do your Company importing canned food in Sweden has been not yet added here? Please inform us by email or whatsapp. Thanks you.
Back to Top