ITALY canned food manufacturers
◾ ERGO FOOD SRL
Ergo Food s.r.l.
Via Berca, 20
12040 Priocca d'Alba (Cn)
Located in Priocca d'Alba in the province of Cuneo, ERGO FOOD SRL was founded in the summer of 2005 as a trading company that imported preserved fish products. In January 2010, with the acquisition of the historic ALEX brand, he set up his own production structure, expanding the workforce, the customer portfolio and the product catalog. Today, in fact, ERGO FOOD SRL does not only sell preserved fish products (tuna and anchovies), but also preserved vegetable products such as olives, artichokes, tomatoes and champignons. All the references produced with the ALEX brand (and in private label) are processed with the exclusive use of raw materials of absolute quality and authenticity, adopting processing principles inspired by the observance of purely artisan methods, without the addition of preservatives and / or dyes, following methods of ancient culinary tradition.
Source: the website
Fillets of anchovies
mushrooms champignons
artichokes
capers
olives
tuna
mackerel.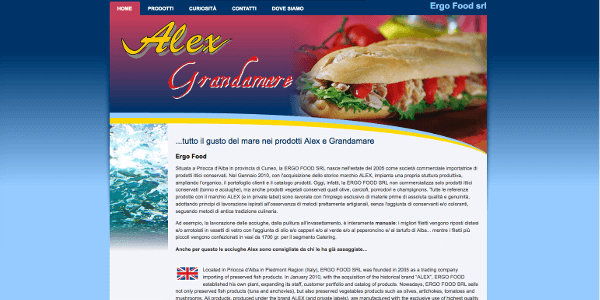 ----
◾ EUROCOM SRL
EUROCOM srl
Via Orta Loreto, 56
84012 Angri (SA) - Italy
Eurocom s.r.l. has been a family business for over 30 years specialized in the canned foods industry. It produces high quality canned products including canned vegetables and beans either in brine or tomato sauce. Eurocom has achieved a level of importance in the market because of its unique production strategy supported by the latest industrial technology. That's why Eurocom can offer a superior quality product that enhances the natural taste of our homegrown produce. Continued strong investment in the latest technologically advanced equipment, qualified personnel, along with traditional Italian know-how combine to make our premium quality Anna La Bella and La Masseria products the healthiest in the market today.

+39 081 5165036
Green peas
Chick peas
Red kidney beans
Green peas are a very good source of vitamin K, manganese, dietary fiber, vitamin B1, copper, vitamin C, phosphorus and folate. They are also a good source of vitamin B6, niacin, vitamin B2.
As a rich source of vitamins, minerals and fiber, chickpeas may offer a variety of health benefits, such as improving digestion, aiding weight management and reducing the risk of several diseases. Additionally, chickpeas are high in protein and make an excellent replacement for meat in vegetarian and vegan diets.
Red Kidney Beans are a complete food rich in fiber, protein, vitamins, enzymes and minerals (magnesium, iron, calcium, phosphorus and manganese). They have laxative properties and are rich in antioxidants, useful to prevent disease. Finally, being a food with a high nutritional and protein value, they are widely used in diets.
----
Do you find any mistake or bug in this page? Please inform us by email or whatsapp. Thanks you.