Canned food manufacturers in Spain
---
◾ HELIOS DULCES Y CONSERVAS SA
DULCES Y CONSERVAS HELIOS S.A.
Ctra. Salamanca, 44
47195 Arroyo de la Encomienda
Valladolid.
Dulces y Conservas Helios SA is the parent company of the Helios Group, has its main plant and headquarters centrally located in Valladolid. This operation centers its activities in the manufacture of jams, fried tomato and sauces, quince and fruits in syrup.
Source: the website
jams
fried tomato
vegetables
cherries in syrup
fruit in syrup
honey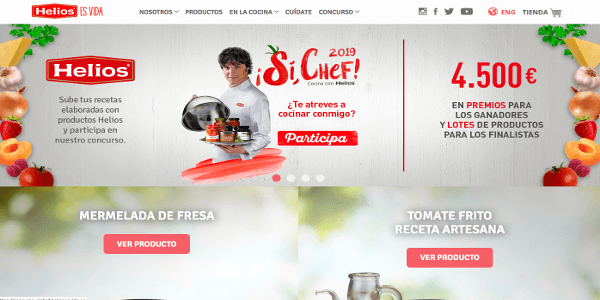 ---
◾ HIJOS DE CARLO ALBO SLU
Hijos de Carlos Albo, S.L.U
C/ Jacinto Benavente, 41
Aptdo Correos 1510
6208 – VIGO, ESPAÑA
Since 1869 producers of canned fish of high quality.
Source: the website

Facebook +34 986 213 333
tuna
bonito tuna
mackerel fillets
---
◾ HIJOS DE JOSÉ LOU S.A.
HIJOS DE JOSÉ LOU S.A.
POLÍGONO MALPICA II C/E Nº64
50016 Zaragoza
España
From the ancient Aragonese olives and the wide Andalusians olive grove, they select the best olives in Spain to ensure the highest quality product. A wide range of pickled products completes the family of products of José Lou to make their company a referent as supplier and distributor of olives and pickles.
Source: the website
Do you find any mistake or bug in this page? Please inform us by email or whatsapp. Thanks you.